We want children in our village to have a place where they can come after school, with loose change jangling in their pockets, and indulge their sweet teeth in a little candy — with a side of happy! We have a crazy big selection of candy, all decadent and delicious, many unique and retro: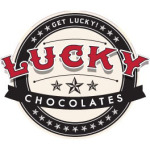 Lucky Chocolates: We are proud to offer Lucky's organic, fair-trade treats handmade on the East Coast of the Hudson River. 
Retro Classics: Charlston Chews, Vallomilks, Abba Zabbas, Goldberg's Peanut Chews, Coconut Slices, Astropops, Wax Lips, Cow Tails, Bullseyes, Bazooka Bubble Gum!
Bulk Candies: Malted Milk Balls, Non-Pareils (dark, milk, white), Chocolate Peanuts and Raisins, Dark Chocolate Espresso Beans, Sour Rainbow Belts, Sour Strawberry & Apple Laces, Sour Berry Belts, Sour Neon Worms, Mike & Ikes, Satellite Wafers, Boston Baked Beans, Hot Tamales, Jersey Cherry Sours, Australian Black and Red Licorice, and much more.  
Contemporary Favorites: Smarties, Candy Necklaces, Nerds, Airheads, Rock Candy, Tootsie Rolls, Fun Dips, Pop Rocks, Fizzy Bubble Gum, Warheads, Toxic Waste, Lollipops, the list goes on . . . .